Form Drop-off & Walk-in Assistance Sites
County services have been redesigned to drastically reduce person-to-person contact while ensuring welcoming, accessible, equitable and efficient service options. Most services are provided via phone or online options. 
All emergency 24/7 facilities will continue operation with enhanced social distancing requirements. Public entrances to all other non-emergency facilities will be closed. Signage at high-traffic locations includes information on accessing services.
Secure drop-off sites
For the limited situations in which it is not possible for a resident to interact with Ramsey County via telephone or online options, three locations in the city of Saint Paul and three suburban Ramsey County locations will serve as secure drop-off and processing sites for documents related to all service types. These will be open during the locations' regular business hours.
These items should not be placed in the document boxes: cash payments, child support payments, library materials, gun permit applications, city of Saint Paul documents and Court documents*.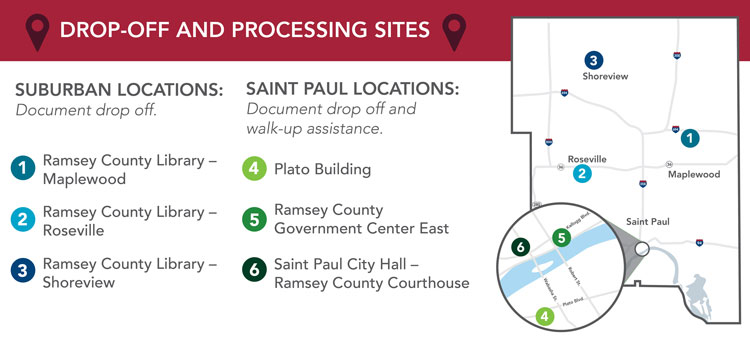 Suburban locations
Saint Paul locations
Ramsey County Government Center East
The Government Center East box is picked up every weekday (Monday-Friday) in the morning and afternoon:

7:30 a.m. – Items are time stamped with the previous business day (yesterday).
3:30 p.m. – Items are stamped with the current business day (today).

Saint Paul City Hall – Ramsey County Courthouse (near 4th Street entrance.)
*This location accepts City of Saint Paul and Second District Court documents.
Cleaning information 
Document box exteriors are cleaned multiple times each day. Please practice preventative health measures before, during and after using them, including waiting more than six feet away from others using the boxes.  
Walk-up service locations (8 a.m. to 4:30 p.m.)
The three downtown Saint Paul locations will also accommodate walk-up service inquiries that individuals can access as an option of last resort for any issue involving Ramsey County. These walk-up sites will strictly adhere to all public health guidelines to ensure the safety of residents and staff, and they will most importantly ensure that no resident is left behind in a moment of need.