Saint Paul City Hall and Ramsey County Courthouse
Service alert – coronavirus/COVID-19
Ramsey County is committed to providing services throughout the coronavirus/COVID-19 outbreak while protecting the health of residents and staff. Most service questions can be answered by phone or email.
Saint Paul City Hall and Ramsey County Courthouse is currently one of three Ramsey County buildings offering walk-up service assistance and one of six locations with a secure document drop-off site.
The Saint Paul City Hall and Ramsey County Courthouse, located in downtown Saint Paul, contains offices for the Ramsey County Board of Commissioners, County Manager and Law Library, as well as the Mayor and City Council of Saint Paul and the State of MN Second Judicial Courts.
15 West Kellogg Blvd.
Saint Paul
, Minnesota
55102
Image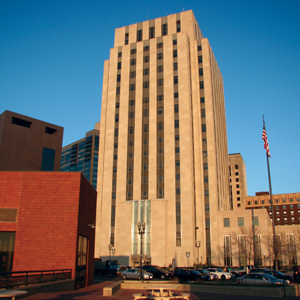 Additional Information
Tours
Saint Paul City Hall and Ramsey County Courthouse is a 21-story monument to Art Deco high-rise architecture. 
Scheduled public hour-long tours are offered by the Ramsey County Historical Society Mondays at 12:15 p.m. Tours by appointment are also available. Call 651-222-4786 or email courthousetours@rchs.com.
Tours may include:
Memorial Hall and Vision of Peace statue.
Council Chambers, Mayor's Office and courtroom.
Art Deco features.
Woods (23 varieties from 18 countries) and marbles.
Self-guided tours can be taken during regular building hours. 
Learn more about the history of 1920s and 1930s Art Deco throughout the Twin Cities by listening to this radio broadcast.