Workforce Innovation Board of Ramsey County

The Workforce Innovation Board of Ramsey County (WIB) ensures that businesses have access to a well-educated and highly skilled workforce. The WIB is comprised of business experts, elected officials and workforce development professionals who set policy and provide oversight of public workforce programs and efforts. A primary role of the WIB is to evaluate workforce needs for our local economy - a current focus is developing career pathways in the growing sectors of Construction, Healthcare, Information Technology and Manufacturing.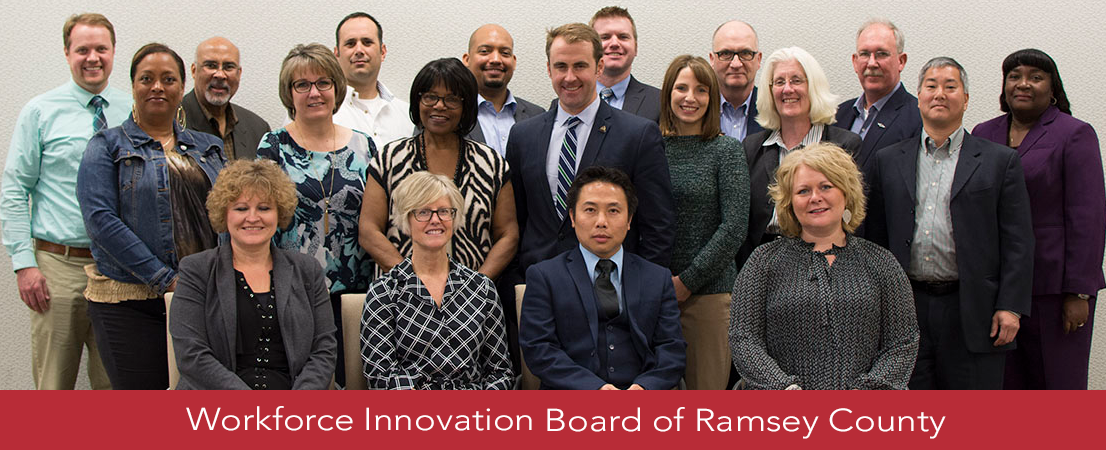 Front row (l-r): Kate Probert, Workforce Solutions, Karin McCabe, McGough Construction, Anivuin Xiong, Atman Law Firm, Jennifer Roettger, HealthEast. Middle row: Danielle Taylor, 180 Degrees Inc., Sheila Olson, Goodwill/Easter Seals, Patricia Brady, Workforce Solutions, Chris Tolbert, Saint Paul City Council, Tracy Wilson, Saint Paul College, Mary Russell, HealthPartners, Chris Kondo, 3M. Back row: Paul Nikstad, HHH Job Corps., Joe Richburg, Keystone Computer Solutions, Foster Hackett III, Advanced Design Contracting, James McClean, Regions Hospital, Chad Kulas, Midway Chamber of Commerce, Michael Chanaka, CHS, Sean Mullan, 3M, Ramona Wilson, Knutson Construction. Not pictured: Michael Belaen, Capella Education Company, Carrie Cisek, GovDelivery, Bob de la Vega, Wells Fargo & Co., Judy Donohue, Lutheran Social Service, Marie Ellis, Saint Paul Area Chamber of Commerce, Amy Filice, City of Saint Paul Planning and Economic Development, Michael Fondungallah, Fondungallah & Kigham, LLC, Larry Gilbertson, Ironworkers Local 512, Trixie Golberg, Lifetrack Resources, Clarence Hightower, Community Action Partnership of Ramsey and Washington Counties, Louis Jambois, Saint Paul Port Authority, Donald Mullin, Saint Paul Building and Construction Trades Council, Tim O'Brien, Roseville Adult Learning Center, Dee Torgerson, DEED, Jim Wrobleski, DEED, Mike Zipko, Zipko Strategy.
Workforce Innovation Board Executive Committee

Front row (l-r): Karin McCabe, Chair-Elect, Butch Howard, Chair, Patricia Brady. Back row (l-r): Rebecca Milbrandt, Commissioner Toni Carter, Councilmember Chris Tolbert, Sean Mullan, James McClean, Mary Russell. Not pictured: Bob de la Vega, Nerita Hughes, Joe Richburg, Mike Zipko.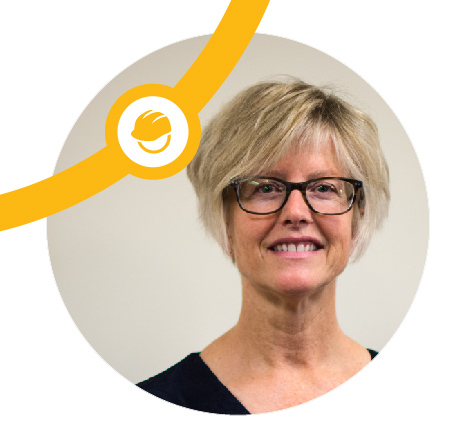 Pathway: Construction
Featured employer and WIB member
Karin McCabe, Outreach Director, McGough Construction, WIB member
Karin McCabe started with McGough Construction in 1999 after taking a construction class through a displaced worker program. Hired as a laborer, she advanced through several roles at McGough until assuming her current position as Outreach Director. "I love what I do and will continue this work throughout my career at McGough," Karin says. 
A member of the Saint Paul Area Chamber of Commerce leadership group introduced Karin to the Workforce Innovation Board, on which she has served since 2014. Currently Chair-elect and chair of the Youth Committee, Karen is dedicated to bringing youth representation to the board and ensuring that diversity is integral to actions and decision-making. 
As Chair-elect, Karin looks forward to continuously improving the alignment of business needs and workforce training efforts. "The focus of providing a skilled, talented workforce to local businesses is very core to the role I play at McGough," explains Karin. "The WIB wants to support local organizations so their needs for a skilled workforce are clearly understood."